Hiya readers,
Long time no blog!
My life has been pretty exciting: last week, I went to the Big Smoke. (And then I came back again, but that isn't as exciting.)
Oh yes, I went to London! I really like going to the capital; everything seems to happen at once there, and for a person as impatient as myself, that's a good thing. There's always something to look at, and the people are beautiful and very self-possessed. However, these things are part of the reason why I also like to leave London; it's oddly isolating being there.
Anyway, this is a picture of me in a London place:
I'm wearing my trusty Topshop duffel that I actually wore for all of ODOM but never in the pictures.
I took it for my sister, the indomitable Madz. She's a real history buff, and can recite all the (English) kings and queens from William the Conqueror (or at least she could the last time we spoke about the English kings and queens from 1066.)
I was down on university business, but had a morning free. Luckily my trip to London coincided with the hottest day of the year so far, so there I was, strolling around Regent's Park in my oh so fashionable pussy bow blouse (you've already since it
here
). London is attractive in the sun. Hollie and I went to Selfridges, then to the National Portrait Gallery before parting company. I headed for Daunt Books, and the sanctuary of a sunny park. (There will be more postings on these in the next few days, I promise.)
As soon as I knew I was going to London, I knew I had to go to the NPG to see Richard III. This is him:
Source: npg.org.uk
As you probably know, unless you live under a rock or in a tree, or you just don't pay attention to the news, he was recently 'found' in a car park in Leicester. It's not as harsh as it sounds: there was a church, he was buried in the crypt, church got bulldozed, he stayed buried. But a pretty unusual story, I think you'll agree.
My connection with Richard goes back to when I was smaller than I am now. You probably know, because I go on about it all the time, I am from Yorkshire. So was Richard, and he had a castle up on the moors at Middleham.
It's a beautiful place, especially if you're a Yorkshirephile, and a wonderful place for exploring. When I was little, I wanted to be a treasure hunter. I still do, actually, but when I was 6, I really wanted to be one. So when Caitlin the fearless 6 year old treasure hunter heard the story of the poor hunchbacked king (we've always been sympathetic to him up int'dales) and his lost jewellery, I was captivated. By lost jewellery, I mean the Middleham Jewel: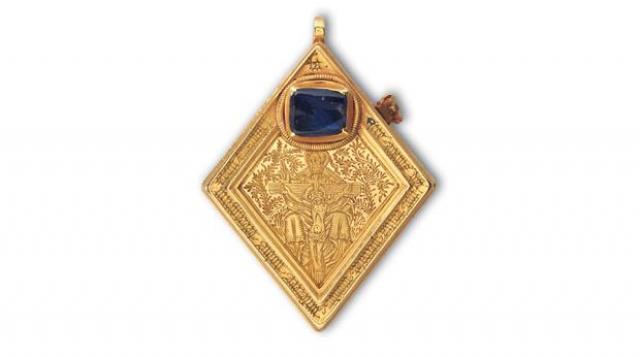 This is the Middleham Jewel. It's in the Yorkshire Museum in York if you fancy a closer look.
It struck me, with all my wisdom as a treasure hunter, that if a poor hunchbacked king was careless enough to lose one priceless gold and sapphire jewel, he probably would've lost another. That makes sense, doesn't it?
I tell you, I spent a long time pawing through bushes and filtering puddles looking for that lost treasure. I did find some (probably just as valuable) broken plates, but I'm sorry to say that jewels evaded me that day. But hey, that means it's still out there! My dreams of treasure hunting glory may still be realised.
Anyway, I had a poster of Richard on my wall, and always distrusted Shakespeare's spin on things (although 'my kingdom for a horse!' is a particularly brilliant speech), so when he was found, I had to go and see the painting in the flesh, so to speak.
I think Richard III is my favourite misrepresented king, and there have been a few. I'm not a historian, but anyone who can fall so foul of popular memory, and spend 200 years in a Leicester car park, deserves a break.
There's a petition to get him buried in York Minster. It'd be ace if you could sign it.
Click here
and help us Yorkshire folk get back our king.
Caitlin x
PS If anyone knows where I can get a replacement poster of Richard, I'd be very grateful. The NPG didn't appear to have any…